M E A T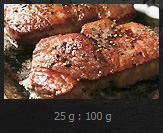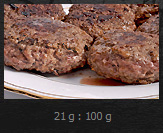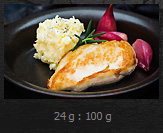 ● Lean meat : 25 g protein per 100 g
● Hamburger meat - 5 % fat : 21 g protein per 100 g
● Chicken (or Turkey) : 24 g protein per 100 g

1 g = 0,03528 oz
Red meat is high on protein and a valuable source of muscle-building creatine. Lean chicken meat is a favourite of all bodybuilders. White meat is said to be healthier than red meat. For variation turkey is a good alternative.

D A I R Y P R O D U C T S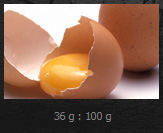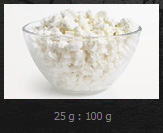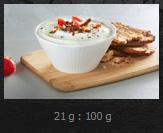 ● Egg white from 6 eggs : 36 g protein per 100 g
● Cottage cheese : 25 g protein per 100 g
● Greek yogurt : 21 g protein per 100 g
1 g = 0,03528 oz
A large proportion of our cells, muscles and tissues is made up of amino acids. Egg white contains a high amount of essential amino acids, which is perfect for bodybuilding. Cottage cheese is rich on protein and calcium. Greek yogurt is a good protein alternative, and has three times less sugar than other types of yoghurt.

S E A F O O D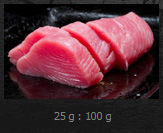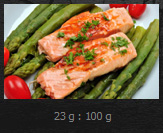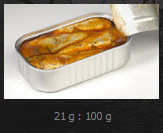 ● Tuna : 25 g protein per 100 g
● Salmon : 23 g protein per 100 g
● Sardines : 21 g protein per 100 g
1 g = 0,03528 oz
Salmon is rich on protein and omega 3 acids. Tuna is famous for high quality protein and high level on antioxidants preventing cell damage. Canned tuna is a good alternative and is reasonable to buy. Sardines are rich on proteins, vitamin d and omega 3. White fish in general is a good alternative to salmon and tuna.

V E G A N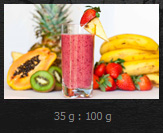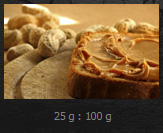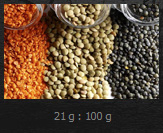 ● Smoothie (banana, kiwi, strawberry) : 35 g protein per 100 g
● Peanut butter : 25 g protein per 100 g
● Lenses : 21 g protein per 100 g
1 g = 0,03528 oz
Homemade protein drinks are full of proteins, vitamins and minerals. Banana is a favourite. Peanut butter is very popular not only for the proteins, but also the healthy fat from nuts. Lenses (and beans) are high on proteins, and can be served with salmon or chicken for the ultimate protein serving. Protein bars are also recommended as vegan supplement.
N U T R I C I O U S F O O D R I C H O N P R O T E I N S
Food rich in protein is essential to build muscles. The intake of proteins is also important for burning fat, maintaining your metabolism and reducing hunger to prevent muscle damage. Proteins reduce the production of carbohydrates in your blood, thus preventing an increase of blood sugar. The higher level of blood sugar, the higher the risk of storing fat in your body.
As a minimum you will need 1.7 gram protein per kilo body weight to maintain and build muscles. The more you want to put on muscle weight, the higher your intake must be.
The suggested foods all contain a high level of protein. Four protein meals per day is a minimum. In between meals you can have small protein snacks, fruit, smoothie or yogurt. It is important to eat at set times every day. Workouts of 60-90 minutes four times a week will give favourable results.
The suggested food is not always available in your food store. You will then have to find alternatives. You can seek advice on internet as there are many websites suggesting nutritious protein food. If you have a health problem concerning food intake, you should always seek professional advice.
H I G H C A R B O H Y D R A T E F O O D
Food rich in carbohydrates is pasta, rice, sweet potato, beans (or lentils), any green leafy vegetable, oatmeal and bread rich in fibre. High carbohydrate food is a vital energy source for the muscle cells. It is also the best fuel for the brain.
The level of insulin in your blood depends on the daily carbohydrate intake. An even level of insulin is important as it constantly helps feeding the cells with energy. This is an essential factor to do workouts with high intensity. How often you eat during the day and what you eat is of great importance to build muscles.
Food rich in fibre is also rich in slow carbohydrates. Slow carbohydrates are essential for maintaining an even level of energy between meals. At least 25 % of your daily intake should consist of slow carbohydrates. If you train with high intensity, you will need a lot more.
On internet you can find suggested plans for what to eat and when during the day. Always seek professional advice in advance if you have a health problem concerning food intake.
Make your food choices, enjoy your food intake, and get started in the gym!