D A Y O N E
B i c e p s , T r i c e p s a n d S h o u l d e r s
● Standing Triceps Rope Pushdowns : 4 sets x 20 (or Cable Curl)
● Hammer Curls : 4 sets x 20
● Side Lateral Raise : 4 sets x 20
● Barbell Curls : 4 sets x 20
● Cable Rope Overhead Triceps Extension : 4 sets x 20

D A Y T W O
C h e s t , S h o u l d e r s a n d A b d o m e n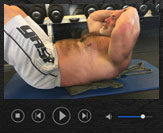 ● Barbell Bench Press : 4 sets x 10
● Barbell Bench Press Narrow Grip : 4 sets x 10
● Incline Bench Press Medium Grip : 4 sets x 20
● Barbell Shoulder Press : 4 sets x 20
● Cable Crossover : 4 sets x 20
● Reverse Flyers : 4 sets x 20
● Crunches : 4 sets x 20

D A Y T H R E E
L e g s a n d C a l v e s
● Barbell Squats : 4 sets x 10 (Remember hip and knee position of 90 degrees !)
● Leg Press : 4 sets x 10 (close to maximum in controlled movement)
● Reverse Hack Squats : 4 sets x 10
● Leg Extension : 4 sets x 30
(For bigger legs I would advise you to do one and one leg, not both legs simultaneously)
● Seated Leg Curls : 4 sets x 20
● Lying Leg Curls : 4 sets x 20
● Standing or Seated Calf Extension : 4 sets x 20
● Inner Thigh Squeezes : 4 sets x 10

D A Y F O U R
B a c k
● Seated Narrow-Grip Lateral Pulldown : 4 sets x 20
● Hammer Strength Row Back Exercise : 4 sets x 20
● Wide-Grip Lateral Pulldown : 4 sets x 20
(You can vary with Narrow-Grip when it suits you. Hitting lower back)
● Wide-Grip Behind Neck Lateral Pulldown : 4 sets x 20
● Bent Over Barbell Row : 4 sets x 10
● Bent Deadlift Barbell Row : 4 sets x 10
S P L I T P R O G R A M M E
Split programme is my favourite as my muscles need at least three days of recovery before I start to work on the same muscle groups. I also need time to recover mentally to avoid fatigue in a long term prospective.
I always start with the most important exercise as it takes most energy. As warm up I do many repetitions with light weights. Each gym session consists of 5-6 different exercises.
I start with DAY ONE on Monday, then DAY TWO on Tuesday. Wednesday is rest day before DAY THREE on Thursday and DAY FOUR on Friday. During weekends I rest unless I get a little restless. After the fourth session I start all over again.
I train from 75 to 90 minutes in each session. I am always focused at the gym.
I do cardio on a step machine twice a week for 35 minutes. When I want to lose fat more extensively, I do cardio more than twice a week. Cardio is an efficient way of shaping your body to become leaner.
I always start my sessions by the exercises involving the bigger muscles or muscle groups. I lift heavier weights at the beginning than in the end. Before I reach my maximum, I do several sets of warm ups. This is important to avoid injury.
My suggested exercises are the basic exercises I have been doing since I started to do workouts more than 30 years ago. Never lift heavier than maximum in a controlled manner.
Most important of all is to work on each muscle group in the right angle.